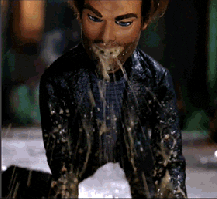 The 2016 Atlanta Braves were bad y'all. Bad. But let's recap. At a pivotal point in the rebuild a few trades were made that signaled the seriousness of our efforts to suck in order to not suck. In the previous year the Kimbrel trade brought us, well not a ton, and the Heyward trade brought us Shelby Miller, but now was the time to go full on, head-first into the twilight zone of Tanksville (a slightly less awkward version of Fansville, I hope.). Andrelton Simmons was sacrificed for a lottery ticket on a lefty and fans are (still) left hoping it was worth it, no pressure Sean. Justin Upton would be sent to San Diego for what would become the most beautiful head of hair east of the Mississippi (Max Fried). Dave Stewart was robbed at lunch, twice apparently.
2016 Atlanta Braves, The Good – The Prospects
Braves Top Prospects (according to Baseballpropectus.com)
1. SS Dansby Swanson (THE "LUNCH" TRADE)
2. LHP Sean Newcomb (THE "THIS BETTER BE WORTH IT" TRADE)
3. SS Ozzie Albies (INTERNATIONAL FREE AGENT)
4. RHP Aaron Blair (THE "LUNCH TRADE")
5. LHP Kolby Allard (DRAFT – hey…we got one!)
6. RHP Touki Toussaint (THE ARIZONA PURCHASE)
7. RHP Mike Soroka (DRAFT)
8. 3B Austin Riley (DRAFT – SLOT FROM Craig Kimbrel trade)
9. LHP Max Fried (UPTON TRADE)
10. RHP Lucas Sims (DRAFT/OLD GUARD)
Ahhh that's better. After churning out several mediocre drafts of "safe" picks with no upside, its finally nice to see a list with some potential. Modern readers will recognize a few difference makers making their way into the system and up the rankings. The rebuild is starting to take shape as the Braves make it to top 3 of every prospect ranking. Not listed here, but we should also include, John Gant, Mallex Smith, and Johan Comargo as honorable mentions that had been added or climbed that year. Oh, and some kid named Ronald Acuña Jr was starting to figure out Rome.
2016 Atlanta Braves, The Bad – The Roster
Most Games by Position (Games Started)
C             Tyler Flowers (81) – began to show promise as a framer and provided more offense than expected. Not a star by any means but carved out a larger role that would stick over the next few seasons. (0.3)
1B           Freddie Freeman (158) – Patron Saint of Atlanta, long sufferer in Chief. First of his name, most loyal of all Braves, he who has earned our respect for competing every day in middle of THIS lineup, without complaining, all while posting career-best numbers in almost every category with an OPS+ of 157. (6.5war…feels light, no?)
2B           Jace Peterson (87) – With a 0.5war season and a wRC+ of 94, he was the definition of a league average player, which is way better than I remember him. (0.5war)
3B           Adonis Garcia (123) – The Greek God of Dingers. Folk hero. Entirely disappointing, yet emblematic of the status of the rebuild. (0.3war)
SS           Erick Aybar (93) – With some hope that a professional ball player would arrive from the "THIS BETTER BE WORTH IT/Andrelton Simmons trade" to provide useful innings at shortstop, Aybar forgot which end of the bat to hold. After a decade of productive play in Anaheim, he literally (and figuratively) choked on a chicken bone, and never played meaningful baseball again. (-74.0war)
LF            Matt Kemp (54) – Not the Matt Kemp of old, but acquiring Kemp meant dumping Hector Olivera. I would give you hyperbole to insult Olivera, but he's not worth the effort. Anything, including the Ghost of Matt Kemp's Past, was an upgrade. (0.0war with ATL)
CF           Ender Inciarte (120) – Acquired in the "LUNCH TRADE" that has been credited with kickstarting the Braves rebound from the rebuild. He provided Gold Glove defense in a premium position, and a serviceable bat with an OPS+ of 98, not bad for a glove first, speed guy. (3.8war)
RF           Nick Markakis (150) – Out of Yo…shut up. So consistent, he's often forgotten or maligned. While he isn't the legend some want to pump, I won't tolerate egregious "Neck" slander either. His power slowly returned as he posted 13 HRs and slugged around .400. Steady as she goes. (1.7war)
SP           Julio Teheran – at the age of 25, Teheran made his 9th opening day start of what would be 26 consecutive…I think that's right. Feels that way, anyway. I bet you forgot he posted a 3.21 ERA with an ERA+ of 129 and FIP of 3.69 (nice). 4.8 bWar seasons don't grow on trees.
SP           Aaron Blair – Not great Bob. With an ERA of almost 8.00, this part of the LUNCH TRADE wasn't working out. Some promised remained until an injury left him out in the cold. (-∞war)
SP           Matt Wisler – Posting a forgivable 5.00 ERA season, with better peripherals, Wisler showed both promise and youth. With rough stretches and brilliance mixed in, his 26 starts were an adventure. With a 93-loss team, you look for the little things to entertain you. (0.5war)
SP           Mike Foltynewicz – de fruite de Oso. I'm probably mixing languages but, eh. Similar to Wisler, this young fireballer acquired in the Gattis trade had a Jekyll and Hyde season, but with more star potential sprinkled in. The 2016 season rotation would be a revolving door of youngsters and vets earning a trade launch, but Folty showed why he deserved a shot to stay. (1.5war)
Bullpen – Nope, not gonna put you through that or myself. It was bad, forgettable, and too many nobodies to worry about.
2016 Atlanta Braves: The Ugly – The Total Product
2016 was abysmal, but it wasn't without all hope. Looking back, we see many things taking shape. Fredi Gonzalez gets the boot mid-season via Delta email confirmation, signalling the official resignation of the present for the future, as well as a new, passive aggressive, urban gunslinger GM.
New manager Brian Snitker infused some hope into the boys and we saw a few weeks of decent baseball before the inevitable set in. Young players proved who they were, for better or worse. Veterans established trade value and were shipped off for parts. Hometown heroes solidified eternal respect for their professional consistency amidst the vast wasteland of also-rans. Many names came and went. Fans grasped at straws, clinging to any positive we could find. Cult heroes were born. We cut the wrong guy a time or two (ahem, Willians Astudillo..cough, cough). All in all, it was an oppressively bad season, sandwiched between only slightly less-nauseating seasons, but it was also the bottom of the well in which the future would be born. Many people turned off their TV's, for no fun was to be had, but something was brewing. Twitter was a dark place, but it forged a brand of trolls that would lead us to become the greatest internet fanbase in sports. Operation Coppolella was in full swing, and hope springs eternal. Little did we know, Coppy would be part of the ugly…To be continued.
Thanks for reading the 10 for 10's on the 2016 Atlanta Braves season, if you enjoyed this piece, check out all the pieces here.
All stats above derived from baseball-reference.com. 
Long live Braves Journal!